Life can be complicated, insurance shouldn't be...
We take away the hassle from insurance, the paperwork and the fancy terms that no one can understand and make insurance honest and upfront - because that's what really matters.
It's insurance - made simple. It's cover for the things you love most - made easy. The best part? We offer affordable insurance without compromising on quality.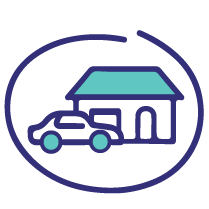 Car and household insurance
Insurance you can change when life changes:
Insurance you can turn off and on
Zero paperwork
Manage your premium from the palm of your hand
Total control over what you insure and for how much.
Health insurance
Health isn't free. But it can be affordable. So many of us simply cannot afford the expenses of medical aid and we know how scary the costs of private medical care can be - that's where health insurance comes in. Here's what makes our health insurance cover simple, easy and affordable:
Access to private healthcare - We also allow you to see a doctor of YOUR choice.
Get paid BEFORE you see the doctor
Cover for medical emergencies AND day-to-day costs and checkups
Access to a team of dedicated nurses who work in our claims team.
Zero paperwork. Instant claims. Instant payments. For health care visits only
Pet insurance
Cover you could cuddle - We pay you before you see the vet with instant and easy claims *vet visits and routine care only. Our pets are our family, but just like costs for medical care for humans, a trip to the vet can set you back a few bucks, not to mention emergency care.
Here's what makes our cover cuddle-worthy:
Get paid before you see the vet
You can choose the vet you want to go to
Pet insurance that also covers day-to-day costs and routine care, not just emergencies
Instant claims through the app
Zero paperwork. Zero hassle. It's all done through the app
On-the-go insurance
Insurance that goes where you go.
Going away for the weekend and want to insure your camera for your holiday? How about a business trip out of town and you want your laptop insured?

What if we told you that with Oneplan (that's us), you can insure your small items On the Go, So that where you go - we go.

In sticking with our Oneplan promise of making insurance easy to use, easy to apply and easy to understand, we have created an add on benefit that does just that - insures your small items when you need them covered! It's as easy as 1.2. Insured!

Basically, what On-The-Go does is cover the small assets that you take away from your home - it's as simple as that.